On the morning of December 25th, the 2021 National Powder Metallurgy Conference of China was grandly opened in Changsha International Conference Center. As the pioneer of "3D printing + Powder Metallurgy" and the new productivity potential unicorn enterprise in China, UPRISE 3D was invited to participate in this conference. UPRISE 3D set up a booth opposite the forum area (booth B042), where metal & ceramic 3D printer, 3D printing materials and 3D printing products were displayed, providing clients with integrated 3D printing solutions, which can drive traditional powder metallurgy towards digitalization, release more potential applications for powder metallurgy.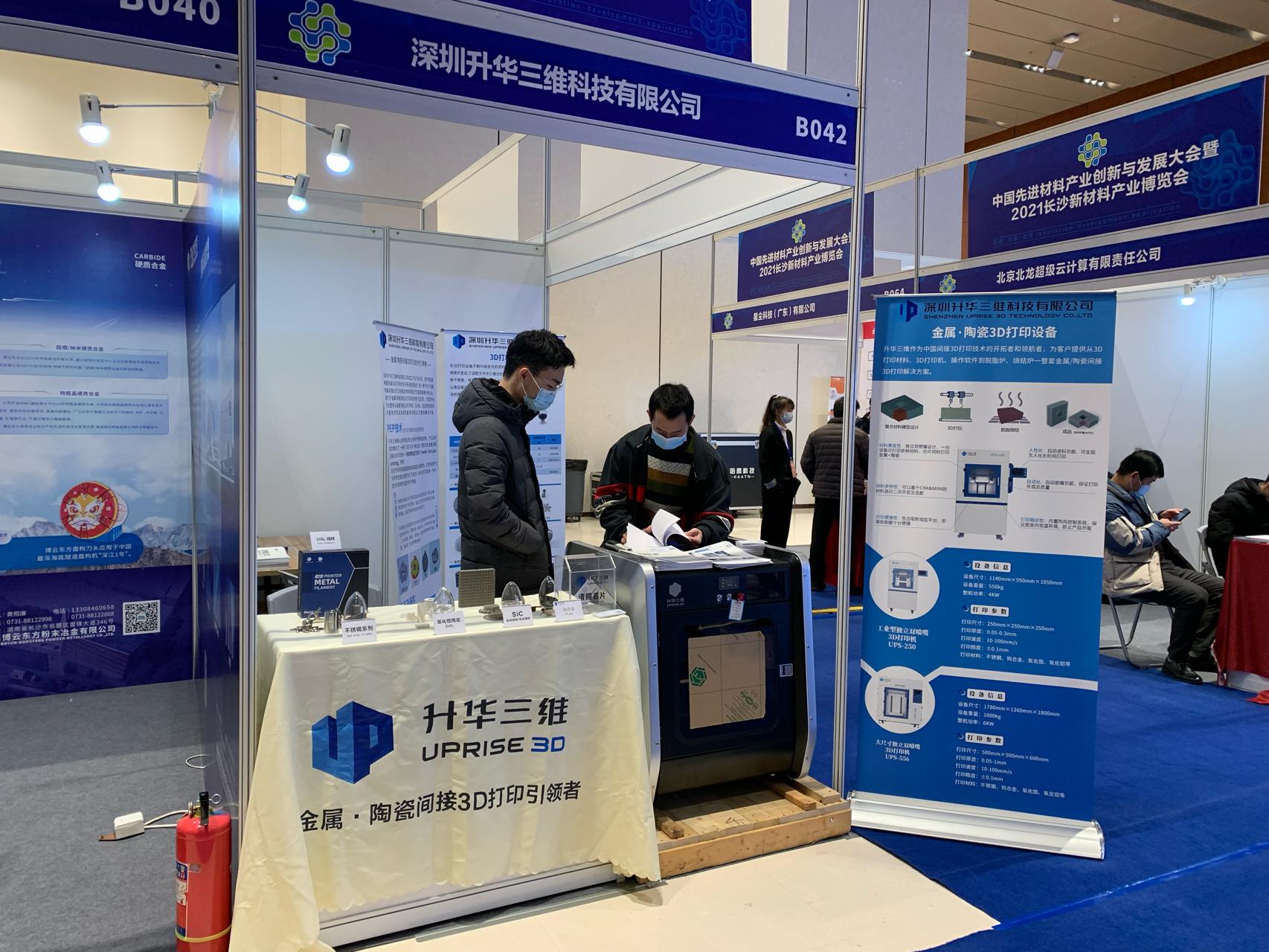 The conference takes innovation, development and application as the theme and adopts the form of "meeting + exhibition" to hold the opening ceremony and theme report conference, 15 professional forums, scientific and technological achievements exhibition, new materials expo and other theme activities, with an exhibition area of 5000 square meters. The conference set up three exhibition areas, including powder metallurgy materials, aerospace materials and comprehensive exhibition areas. There were more than 200 excellent enterprises participating in the exhibition, and more than 10,000 experts and enterprise representatives from the national new material industry attending the meeting to discuss the development plan of China's new material industry.
The theme report of the 2021 National Powder Metallurgy Conference of China was held after the opening ceremony. Yong Gan, director of the National Expert Advisory Committee on New Material Industry Development, chairman of the consortium of Chinese Association of Science and Technology and Advanced Materials Society, former vice president of Chinese Academy of Engineering, academician, Zuoren Nie, academician of chemical engineering, metallurgy and material engineering department of Chinese Academy of Engineering, Zhigang Zou, academician of Chinese Academy of Sciences and materials specialist, Shaoming Zhang, party secretary and chairman of China Iron & Steel Research Institute Group, and Kechao Zhou, vice president of Central South University, respectively made theme reports, to make a comprehensive interpretation of the development of new material industry in various fields from the national level, and to build a forward-looking, professional and authoritative communication platform for the participants.
On the afternoon of December 26th, Dr. Liu of Shenzhen Uprise 3D Technology Co., Ltd was honored to be invited to bring participants a special report on "research on the preparation and properties of refractory metals by PEP technology" in the refractory metals and hard alloys sub-venue, who deeply analyzed that the precise forming of refractory metals with complex structures is the difficulty restricting its application. Adopting powder extrusion printing technology (PEP), and combining with debinding and sintering, high quality tungsten alloy with complex structure can be obtained.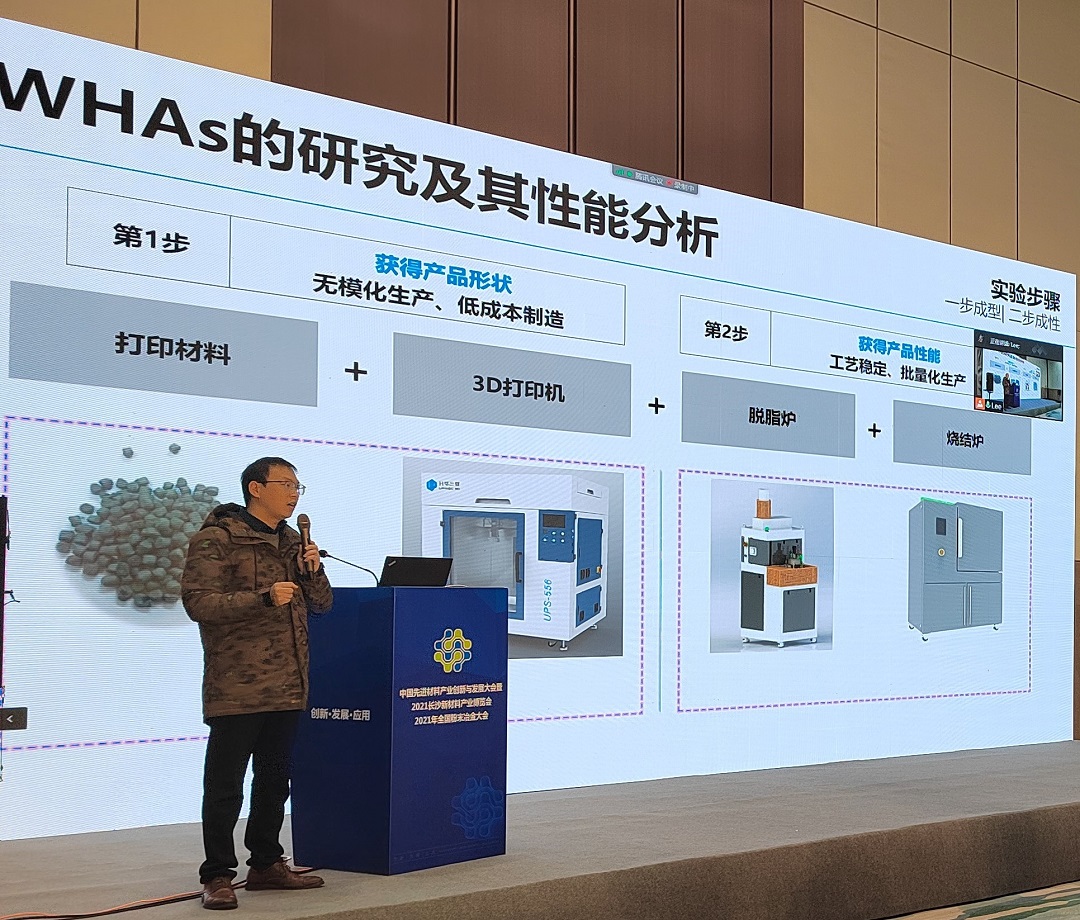 Powder extrusion printing technology is a new type of 3D printing technology combining "3D printing" and "Powder Metallurgy". Through digital model construction and screw extrusion of printing materials, complex refractory metal structural parts can be formed at low temperature (300℃). After debinding and sintering, the preparation of high-performance products with uniform composition, precise and complex structure is completed. Therefore, PEP technology is a new kind of additive manufacturing method, which has high product shape adaptability, is adjustable and controllable for multi-component, and is used for manufacturing refractory metals.
UPRISE 3D and Tianjin University team have successfully prepared tungsten-based alloy (96W-2.7Ni-1.3Fe) with high density 99.1±0.2%(table 1), defect-free, tensile strength 801MPa, elongation 22.1% (fig 2) by determining the appropriate thermal debinding and two-step sintering process. After proper subsequent heating treatment, the mechanical properties are further improved. The tensile strength is 838MPa and the elongation reaches 26.1% (fig 2). And the composition is accurate and controllable. No matter in the sintering process or the heating treatment process, no fragile phase will be produced. (fig 1)

table 1. The hardness and relative density of specimens after sintering under different conditions.

Fig. 1. (a) XRD patterns and (b) SEM image of the heat-treated SHLH specimen.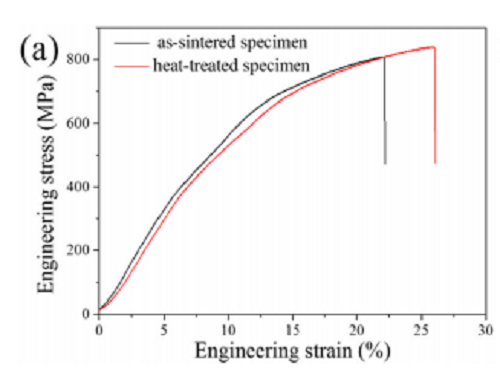 Fig. 2. (a) Engineering strain-stress curve of SHLH specimens before and after heat treatment.